Pony For The Day
Check out our Mini Site for Pony Days:-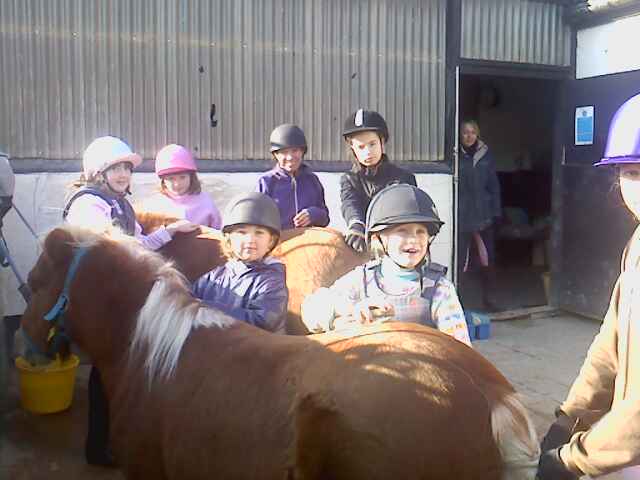 Pony for the Day is run during School Holidays (usually on Friday, but sometimes Wednesday and Thursday depending on demand), it's designed for riders who can already Walk, Trot and Canter.
Pony for the Day is fun, everyone looks forward to it, and enjoys coming. The aim is a balance of fun and responsibility, with each rider required to look after their own horse, or learn how to, usually involving most of the activities that required if you had your own horse.
Day Starts at 10am.
Day Finishes at 4pm.
2 Hours of Guaranteed Riding, sometimes more.

The riding could be a mixture of hacking, group lessons or mounted games in the indoor school.

1 Hour Lunch Time (pack lunch required).
Grooming and Horse Care.
Taking up.
Untacking.
General Stable Management Duties.

Keeping your tack clean, washing your bit, changing the girth etc.
Keeping the area your horse/pony was tethered to clean while he is there.
Putting any Equipment (brooms, brushes, hoofpicks) back after use.

Feeding the Horse.
Keeping them Supplied with Water on Hot Days.
Rugging and Unrugging.
Returning them to The Fields or their Box at the beginning of the day.
Nothing to difficult, the typical duties and responsibilities that go with horse care and horse riding.
And we're happy to help anybody learn these skills.
It's a great day, the kids love it, and better still they make friends and gain confidence while doing something they love!
1/2 Pony for the Day

We also do a 1/2 Day, which differs slightly:
Half Day is 10am to 1pm (and includes a single Riding Session instead of two)
Price is £40
Prices / Costs of Pony for the Day:
Full Day Children Only (10am-4pm):
Standard One-Off Price:
Club Plus Discounted Price:

6 Hours: £POA - See White Board on Yard
Full Day Children Only (10am-4pm):
Standard One-Off Price:

3 Hours: £POA - Please Call or Email Us

Club Plus Discounted Price:

3 Hours: £POA - Please Call or Email Us
Some pictures taken on a random Pony Day: